After nearly 10 years of bringing improv into the workplace, we've seen firsthand how it can shift corporate cultures and transform the way teams work together. However, most organizations that invest in Organizational ImprovTM (our term for it) experiences, are doing so for the very first time.
Yet after just one organizational improv workshop, our clients see tangible results in how their teams collaborate, communicate, and creatively solve problems. But just like with any other corporate training or professional development experience, clients often want to know:
What can we do to build on what we learned in a workshop?
How do we sustain the improv mindsets and behaviors we just learned and keep applying them to our work?
How can we ensure we don't lose the momentum we just cultivated for  being more creative, innovative, and empathetic?
Our short answer: You make improv a practice.
An example I often share with clients is that of someone going to a yoga class for the first time: Just like you wouldn't go to one yoga class and call yourself a yogi, you wouldn't have one improv session and expect everything to change. You need to make improv an organizational habit and a regular team ritual to reap its ongoing benefits.
So, you've just done an improv workshop with your team — or are considering one — and are asking yourself the million-dollar question of "Now what? How do I take this fun, seemingly one-time thing I did with my team and really make its effects last?" The good news is there is plenty you can do to continue to build and sustain an improv culture within your organization.
Here are just 9 ideas for how you can put improv to work long after an initial workshop, either on your own or by continuing to get outside expert help:
DO IT YOURSELF
1. Use improv to set the right tone for creativity — or to take a break from it.
Build five to fifteen minutes of facilitated improv activities to the beginning of brainstorming or ideation sessions to set the right collaborative, playful, and "yes, and" tone. You could also schedule short improv "breaks" at different points throughout the session to re-engage your team and revive those creative juices.
Apply this to regular meetings too as a way to establish a repeated ritual that your team does together and to keep ideas fresh.
2. Apply improv to professional development.
If your first foray into Organizational ImprovTM was a more general introduction, identify more specific applications to the various skills that are important to your business and apply improv there. Identify professional development skills that you'd like your employees to learn and/or improve where improv would be an effective approach. For example, improv is great at building and refining communication, presentation, and customer service skills. It's also a great way to cultivate soft skills. (In fact, using improv in your hiring process can help you better gauge those much-desired soft skills in job candidates.)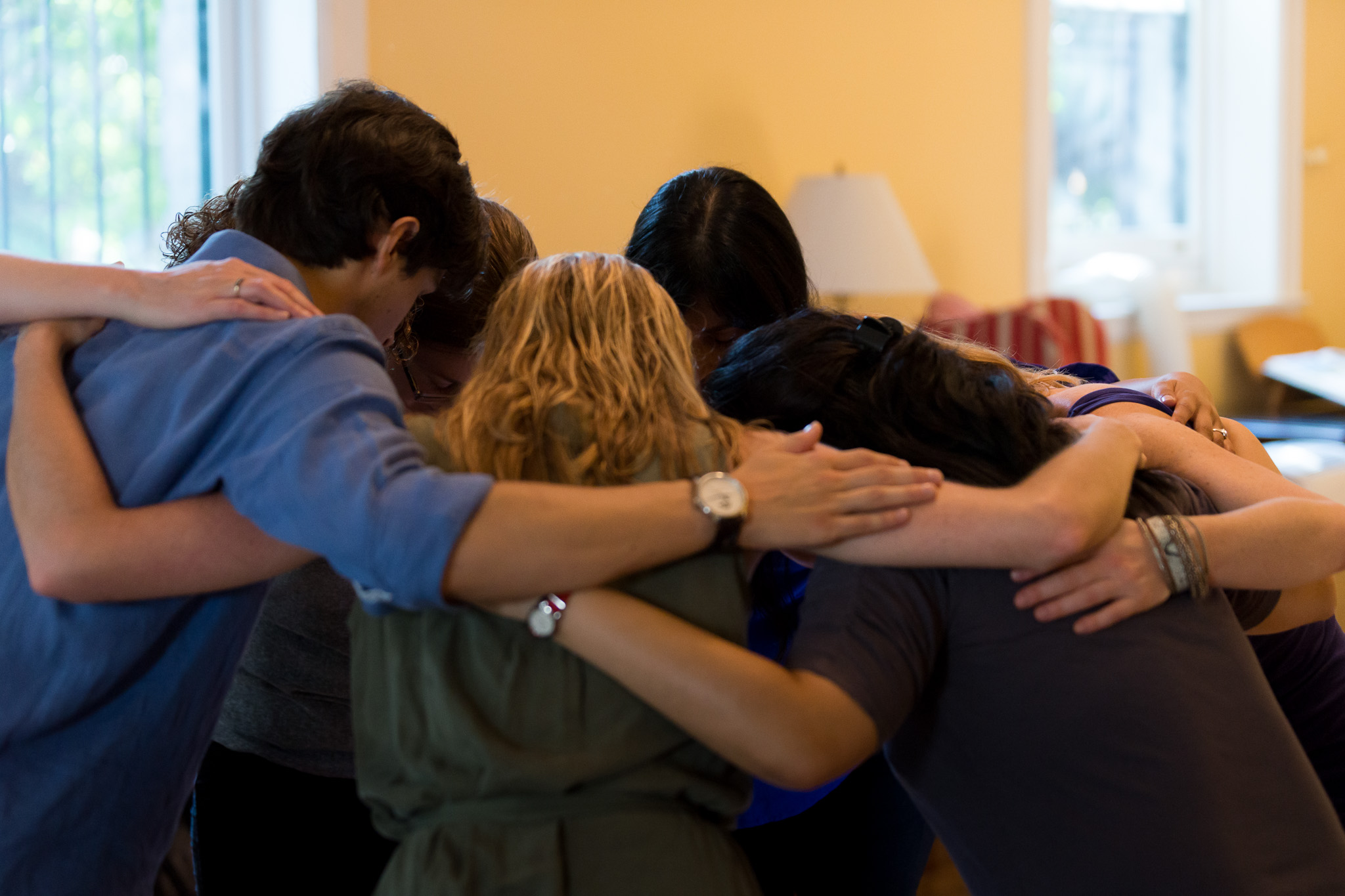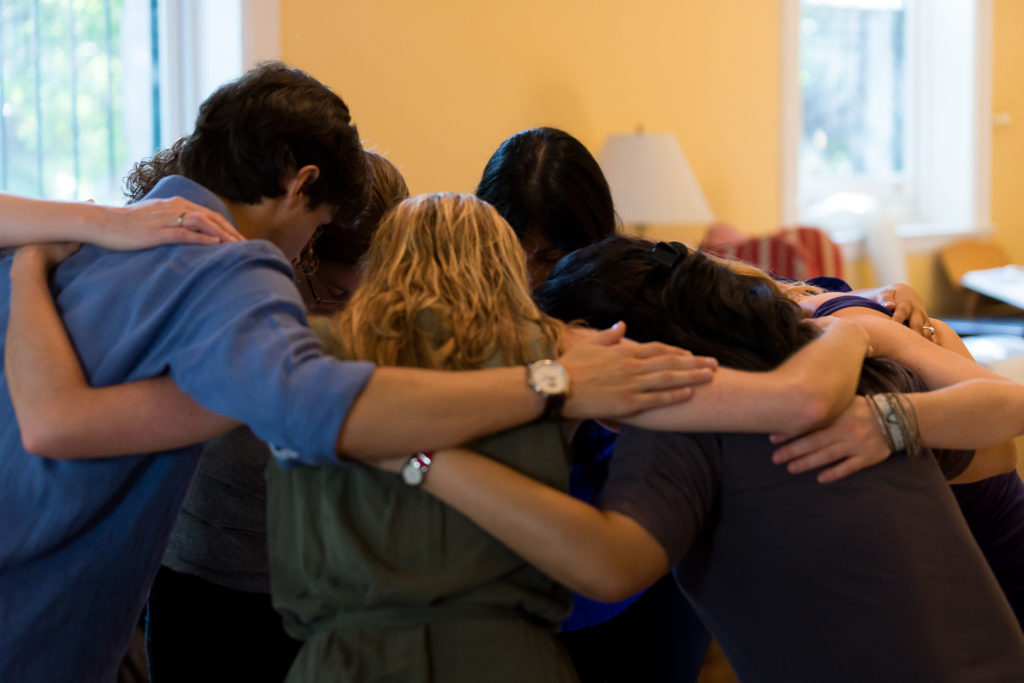 3. Give the gift of improv.
Incorporate an improv workshop into your holiday party. Or opt for an improv session instead of yet another happy hour as a way to make a company-wide event more social, engaging, and memorable. A valuable shared experience like an Organizational ImprovTM session is way more valuable than a hangover!
4. Create visual improv "reminders."
Post key phrases from the improv canon  (for example, "Yes, and…" or "Bring a brick, not a cathedral") and quotes about improv around the office or in meeting rooms to remind you and your team of how you want to work. Out of sight, out of mind holds true for Organizational ImprovTM too, so consider how you can turn improvisational mindsets into something more visual, tangible, and memorable.
To get started, here is a selection of our favorite quotes from improv comedians:
"There are no mistakes, only opportunities." – Tina Fey
"Kill the judge in your head and just take action." – Mick Napier
"Fall, then figure out what to do on the way down." – Del Close
GET OUTSIDE HELP
6. Work with an Organizational ImprovTM coach.
Consider accountability coaching after an Organizational ImprovTM workshop to keep you and your team on track for deploying the tools and mindsets that you learned. For example, an Organizational ImprovTM coach or facilitator can work with your team members to identify opportunities to apply improv mindsets and behaviors in their day-to-day work. He or she could also help individuals stay focused and accountable to changing the way they work.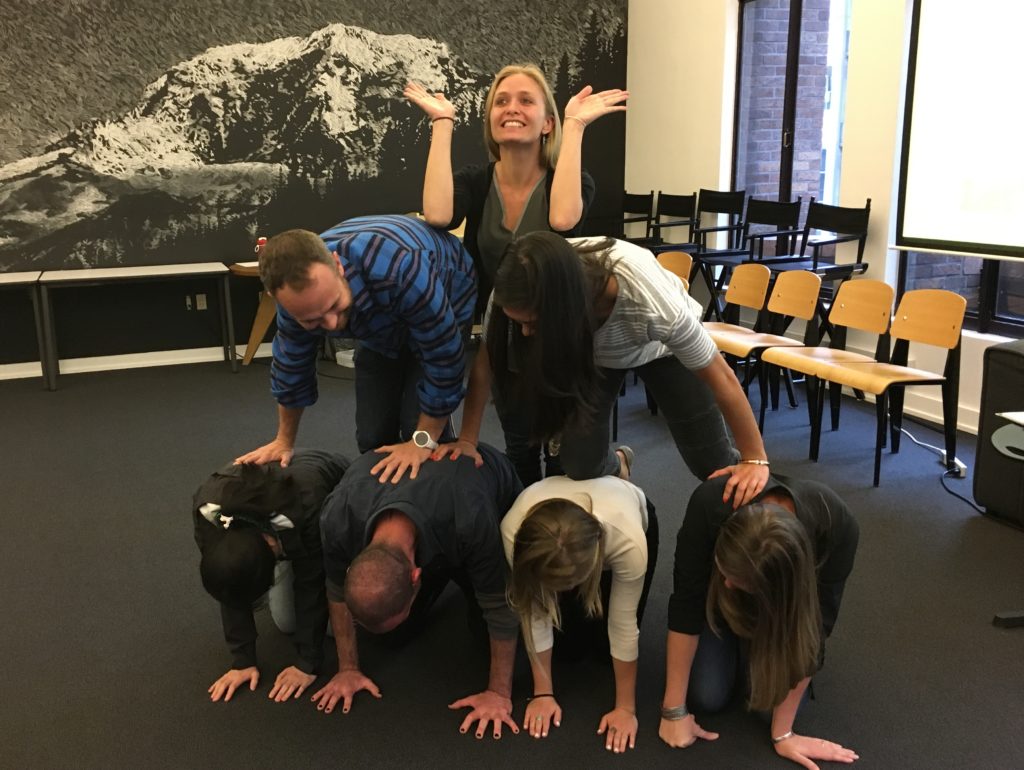 7. Find — and fund — your evangelists.
Identify the improv catalysts and champions from your workshop. Who really seemed to "get" it? Who was having the most fun while also supporting others to do the same? Who shared really insightful takeaways and ideas for application during activity debriefs? Find those people and really invest and empower them on their Organizational ImprovTM journey. You can support them taking an improv class outside of work, ask them to lead one of the DIY initiatives listed above, or further their applied improv expertise by sending them to an event like the Applied Improvisation Network Conference. A few enthusiastic and supported-from-the-top team members can light the fire of organizational culture change.
8. Audit your performance incentives.
Hire a professional to help you identify the behaviors that you and your organization reward and those that you don't to make sure that you're cultivating and encouraging the right ones for sustained improv and innovation. For example, how does your organization reward or inhibit taking risks? If you incentivize playing it safe, your team members won't think big because they'll be afraid of failing. However, if your organizational culture embraces failure as a way to learn quickly, people will be more likely to develop and execute innovative ideas.
9. Take improv to the top.
True sustained change happens from the bottom up and top down. Don't just get verbal and financial buy-in from your top leadership, give the C-suite and executives the opportunity to participate in a facilitated Organizational ImprovTM session, and then have them demonstrate how to use improv at work to different teams and employees. It's deeply motivating to see a leader not afraid to look silly and use humor as a way to lead. 
---
I'm always upfront with clients and potential clients about what can reasonably be achieved in a half-day or two-hour Organizational ImprovTM session. An improv workshop is a great start and you will see results, but it won't cure all your organizational challenges.

To facilitate a true, sustained change in behavior and culture, which improv is capable of doing, you need to build the tools and mindsets of improv into how you work. Improv isn't just something you do, it's a way of being, thinking, and working.

Tags: