Mindhatch was founded on the mission to expand our ways of thinking, solving problems, and building organizational cultures — and being playful, authentic, and vulnerable as we do.
Which is why we're excited to announce a brand new Mindhatch Organizational Improv™ service offering: "White Privilege Black Power," the interview-based, improvised comedy show that tackles diversity and inclusion in the workplace — and that has also caught the eye of The Daily Show producers.
This Mindhatch exclusive has the power to start and navigate hard conversations about how we're different, what that means, and build more compassionate and collaborative teams. We sat down with the incredible duo behind the show — Greg Tindale and Eva Lewis — to talk about how it all began, exploring diversity and inclusion in the workplace through a new lens, and the healing power of smart comedy.
What follows are edited excerpts from a conversation with Eva and Greg that took place in March 2020.
Let's start with the White Privilege Black Power (WPBP) origin story, where did the idea for the show come from?
Eva Lewis: Well, it all started with…improv. Back in 2013, Greg and I met at Washington Improv Theater in Washington DC, and despite our very different backgrounds, we quickly became friends.
Greg Tindale: Then, the 2016 election happened. The day after, I remember walking through DC and feeling like the soul had been sucked out of the city.
In the coming months, I watched people march, plan to run for office, and register to vote. I started wondering, "What do I have to give to make a difference?" Since I was into improv, I had the idea to use it to create a dialogue about what divides us and what brings us together — one show at a time. I emailed Eva to get her thoughts, and she suggested our format, which we still use today: asking each other — and often special guests — questions about our differences and then doing scenes together that are inspired by our conversation.
Speaking of diversity, how would you each describe your backgrounds?
Greg: I'm a white, married father and businessman who grew up in a rural town in Maryland. I attended public school and then state school for college. My father fixed hydraulic jackhammers for a living, and my mother was a nurse.

Eva: I'm black, single, with no kids and a public sector, do-gooder job. I grew up in Prince George's County, MD, the most affluent, primarily black suburb in the country where I attended private Catholic school before heading off to a historically black university. I then followed in my mother's footsteps — she was an attorney for the Department of Energy — and went to law school. My dad was a librarian.

Were you nervous at the beginning of how an improv show exploring diversity would go?
Greg: At first, I was definitely nervous about doing the show. In a regular improv show, the audience provides a suggestion that the performers run with. When the suggestion is something like "broccoli," you can only do so much damage. But when the suggestion is "Can black people be racist?" you can alienate the audience if you don't give the topic the care it deserves.
Eva is a great improv partner, and we let each other work through things on stage and make mistakes. Once we realized that dynamic, we began to really trust each other, and the shows became less nerve-wracking to do.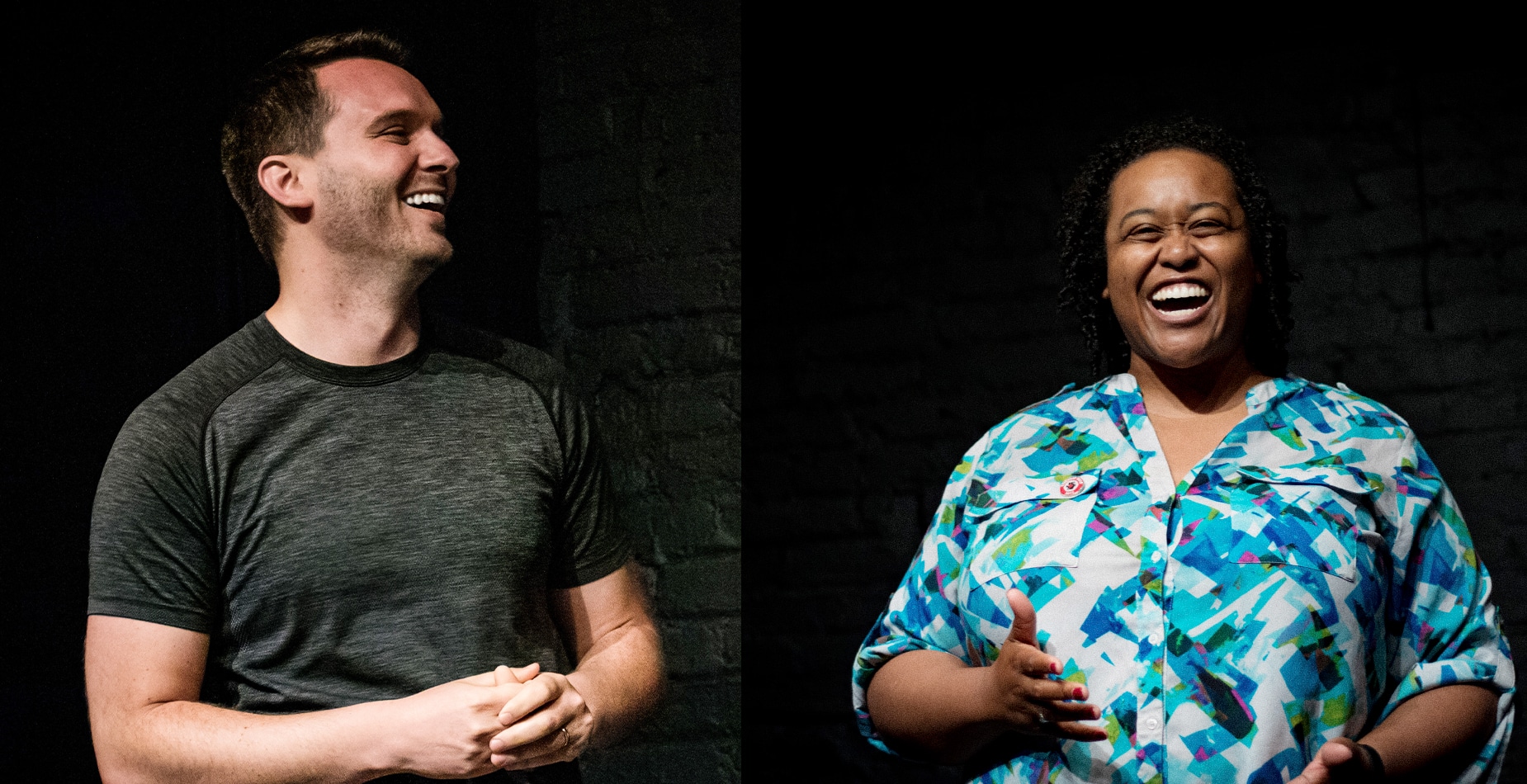 What purpose does each of your roles — and backgrounds — serve in the show?
Greg: In some ways, in our show, I'm the proxy for what is "wrong" with society. I'm the straight, white male who works in the private sector. Although my views are quite liberal, a lot of my friends and family are conservative. So, I can relate to both sides of an issue.
On the other hand, Eva has such a special stage presence. Audiences love to watch her. And I know whenever I might be on thin ice, Eva has my back and can win the audience over for us.
Eva: In a scene, Greg can lead as well as follow. He knows when to fall on the stereotype of "straight, white, and male," but also has a knack for identifying opportunities to show a different type of "white dude." He just knows how to make a scene work, and that's a big part of why we're able to have such good shows and get people to think as well as laugh.
What types of differences and diversity topics have you explored in the show? What themes come up over and over?
Eva: In our show, we've interviewed performers who are African American, Thai American, Vietnamese American, Iranian American, Pakistani American, Chinese American, Mexican American, and Indigenous Americans. We've also interviewed performers living a non-binary gender identity, members of the gay community, comedians on the autism spectrum, and bipolar performers. During each show, our audience learns more about the day-to-day struggle of a marginalized community.

In a recent show, we held a "Public Trial" for Greg, where he wrote down a list of things he did in the past that felt benign at the time but wouldn't pass the "woke" test now. The audience was so passionate about the discussion that three audience members interrupted the show to express their feelings about topics as diverse as the Civil War, the Holocaust, and women's property rights in the 1900s. It was a powerful show uncovering our long-held beliefs and biases.
What types of differences and diversity topics have you explored in the show? What themes come up over and over?
Eva: We've had comedians in marginalized communities thank us for sharing a part of them they hadn't seen represented. We've also had performers we've interviewed say that getting to talk about their struggle in front of an audience was extremely therapeutic and allowed them to move past issues.

Greg: Honestly, I've been surprised that we haven't had more angry audience members! As you can imagine, Washington DC, where we live, is a very polarized city. I think comedy creates a rare safe space that allows everyone to put their guard down, really hear what others are saying, and embrace diversity.

How has WPBP evolved since the beginning?
Greg: WPBP started as an exploration in how we're — Eva and I — different. However, the longer we've done the show, and the more comfortable we get with it, we've been able to bring in voices and experiences that are different than ours, resulting in both the audience and us learning about a broader range of the human experience.

How do you see WPBP's place in this particular moment in time?
Eva: In the four years since we started WPBP, it feels things have gotten even darker. We're at a critical juncture where conservatives and liberals are getting their information from different sources, and therefore have drastically different views of the world. We believe that comedy and empathy can be the bridge between our diversity, making it more relevant than ever.
Recently, a writer said that our show felt like a "celebration of our friendship" despite our glaring differences. Through WPBP, we want to show the world how we can all enjoy each other's company regardless of our backgrounds. It's great that now Mindhatch is helping us take our celebration of friendship and turn it into a powerful celebration of diversity and inclusion in the workplace.

Speaking of that, with your partnership with Mindhatch, you're taking WPBP into a more organizational setting and focusing on diversity and inclusion in the workplace. Why the change?
Greg: One of our primary goals for the WPBP is to inspire and encourage conversations that take place after the show is over. We want the audience to take the ideas we explore in the show back into their normal, daily life and — hopefully — change their point of view and behaviors.

For example, we performed our live show for a group of 80 practicing and studying psychologists, psychoanalysts, and social workers at the St. Elizabeth Mental Hospital in Washington DC. After the show, psychologists that have been practicing for decades came up to us to share that they would be altering the way they relate to their patients because of our exploration of white privilege.
In organizations, rather than in an entertainment setting, you have teams and individuals working together on a near-daily basis. If we can help them all better relate, see each other, and understand their biases, then the show has done its job.
Eva: We've known Coonoor (Behal, Mindhatch's Founder & CEO) for nearly a decade, and we've followed Mindhatch since its beginning. We've seen how Mindhatch's Organizational Improv™ experiences have helped organizations be better at innovation, creativity, collaboration, leadership… you name it. We've seen how it's an engine for improving organizational cultures. We knew Mindhatch could connect the right dots for us to build WPBP into a one-of-a-kind offering in the diversity and inclusion world.
Let's talk about risk. WPBP directly addresses a Pandora's-box of workplace issues. Why is bringing WPBP into your workplace not risky but instead incredibly valuable?
Eva: WPBP isn't a risk because we've perfected the art of tackling tough subjects with love. There is a phrase in comedy called "punching up" that means challenging a power dynamic that is above you in the social hierarchy. On the other hand, "punching down" refers to making fun of something below you in the social hierarchy. In WPBP shows we're always "punching up"— pointing out the problems, and satirizing them, from the perspective of the people who are at a disadvantage. It gives our shows a "we're all in this, figuring it out, together" vibe.
Additionally, because we explore these issues and differences through comedy, the struggle is more relatable, and it's easier to feel empathetic.
How would you recommend someone successfully pitch bringing WPBP to help with diversity and inclusion in the workplace?
Greg: Start by stating that you want to encourage a discussion about diversity and inclusion, to create an environment where employees are able to open themselves up for self reflection, and to create a safe working space where people don't feel bad for not knowing the correct way to interact yet. Follow that with a recommendation for how to accomplish those three things while also laughing together: White Privilege Black Power.

Eva: Studies have shown that the heartbeats of theatergoers watching the same show sync up. A shared experience like WPBP will create bonds that a PowerPoint lecture could never achieve.


Tags: