By definition, inclusive design is an empathetic, human-centered design process in which a product, service, or environment is created with consideration of a broad range of people and perspectives.
The events of 2020, which have exposed design flaws in national systems and prompted widespread discussions about how to better instill diversity and inclusion into our work and world, have also highlighted the necessity of inclusive design. After all, as design ethicist Mike Monteiro once said about in explanation of systemic racism: "The system is working exactly as designed."
With that in mind, here are a few ways to get started with inclusive design and deepen your understanding of diversity and inclusion's impact on the design of everyday things.
Where does Inclusive Design Come from?
The term came about in the 1960s, as large numbers of disabled WWII veterans struggled to get around ramp-less American cities with ease. Soon after, architect and disabilities rights advocate Ronald Mace coined the term "universal design" or "inclusive design," in which he laid out a "concept of designing all products and the built environment to be aesthetic and usable to the greatest extent possible by everyone, regardless of their age, ability, or status in life," according to The Center for Universal Design.
By the 1970s, the idea of "universal design" grew into a broader school of thought, in the hopes that it could further benefit other oppressed groups like people of color, women, and immigrants.
Now over fifty years old, inclusive design is still as relevant as ever, especially as discussions of diversity and inclusion at work are reinvigorated by the racially disproportionate effects of COVID-19 pandemic and the unrest around the death of George Floyd. From there, inclusive design can help to mediate these unjust systems in and outside of your organization by acknowledging the undervalued experiences and incorporating empathy into the design of products, experiences, and even business processes—from the beginning.
Why is Inclusive Design Important?
When everyone feels valued and seen, inclusive design can also help your business flourish. After all, how your systems, products, and business processes work can expand your reach as a company, spark innovation—or not.
When I talk about ideas of inclusion, especially during the customer recruitment phase of a design research project, I hear a lot from clients and product owners "Oh, but this project isn't about that." But I always insist because it always benefits the learning and the solution. For example, a design research project I recently led recruited a customer who had a very different upbringing than most of our other customers; he was bi-racial and had grown up in poverty. His perspective and stories were unlike anything we'd heard in our previous dozen interviews. He inspired us in a new and different way to develop a new product concept that we think will serve and delight all types of customers.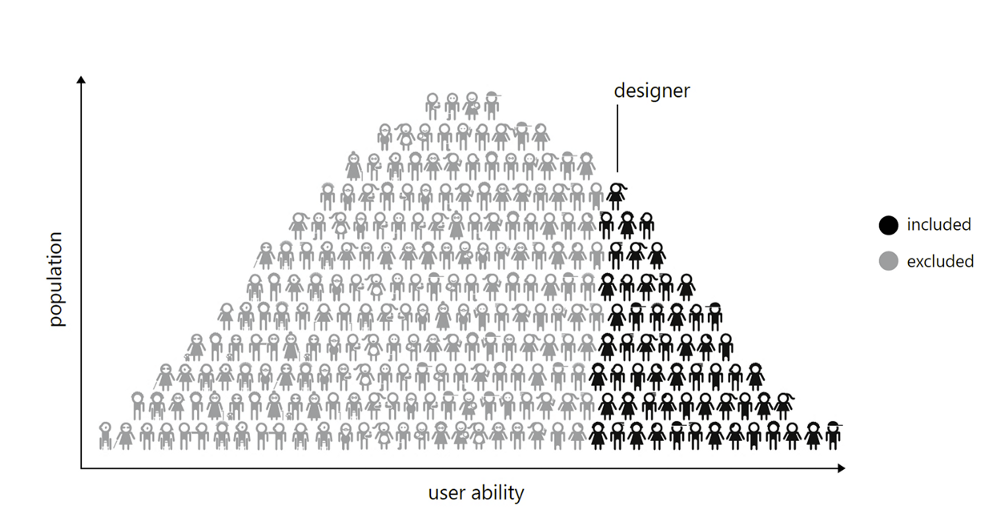 I'd like to reiterate that really, every project is about diversity and inclusion if you want it to be successful and not overlook obvious blind spots that can lead to failure.
After all, inclusive design expands your company's market reach and the accessibility of your offerings by helping you win and retain more customers and employees. In fact, the Centre for Inclusive Design found in a study of Australian consumers that "Inclusively designed products and services that have edge users in mind, can reach and benefit up to four times the size of the intended audience."
For that reason, you will see a return (and then some), on your inclusive design investment. Take, for instance, how nearly every YMCA in the U.S. was designed based on principles of universal design to include slip-resistant flooring, assisted listening systems, hardtop field for adaptive softball, independent pool transfer stations, extensive use of natural lighting, pool acoustics for those with hearing impairments, wheelchair storage and locker room accommodations for wheelchair users, and more. In particular, the Mary Free YMCA in Grand Rapids, Michigan, installed a bright yellow ramp indoors toa access their second level, instead of using a staircase. Here is the this YMCA branch's return on investment, based on their universal design:
"Less than two years into operation, the Mary Free Bed YMCA evidences positive returns on investment (ROIs) economically and socially. When compared to the previous YMCA that served the same community, net revenues for the first year are up an unprecedented 25% above budget. Contributing to this positive return is the growth in membership, up 366% from the old facility."
Additionally, inclusive design creates ample opportunity for innovation to seep into all aspects of business, because it highlights how diversity is a resource for better design. Like, when Microsoft asked Victor Pineda, an urban planner and filmmaker with gradual muscle weakness that has put him in a wheelchair since childhood, he noted that his disability is an asset to the way he sees the world that has sparked him to experiment with personalized adaptations to his wheelchair that have allowed him to attend Burning Man and climb Machu Picchu.
"Would I take a pill to make my disability go away? That's a really hard question, because I have so much insight and such a rich life that not having this perspective would really change the way that I kind of view the world," he said.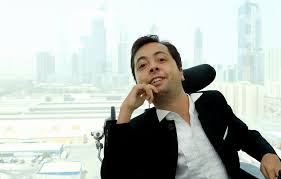 Companies can combat exclusion by hiring outside of social circles to access different perspectives and spur creativity.
"By hiring our friends we prevent the opportunity being shared with a wider demographic and exclude those that potentially have alternative views and processes to step into the role. By hiring outside our social circles we are increasing the likelihood of finding candidates with different opinions," – Bronwen Rees, head of design at Prime Motive. 
Lastly, inclusive design may help us redesign the systems that continue to oppress our greater world. For instance, not only are BIPOC more likely to be killed by police brutality, but they are disproportionately affected by coronavirus—as the result of the designs of systems like the prison industrial complex, public education, and healthcare, that disregard and undermine the experiences and lives of minorities.
2 Ways to Start Applying Inclusive Design
The clearest way to start to understand and apply inclusive design to your organization is to recognize and analyze examples of exclusive design within your organization and industry, and to rebuild in a way that embraces what was once being excluded. For instance, the most blatant example of exclusion in the world of design is the fact that according to a 2016 Design Census, the majority of designers are white men, and that continues to be the case as white men tend to recommend their white male friends for jobs.
[Learn out how Mindhatch can help reduce this bias in hiring using Organizational Improv™ methods]
Here are ways exclusive design shows up in our world:
Exclusive design is in the creation of face recognition technology that mis-identifies black women at a rate nearly 49 times that for white men.
Exclusive design is why I have considered going back to a flip phone instead of succumbing to the ever increasing size of smartphones that don't seem to take into account that I, like many customers, am not the design ideal of the "default male."
Safety standards are rife with a bias for the default male due to exclusion; most studies of the impacts of exercise and diet have only studied male bodies; car safety features like seat belts are tested only with male-sized and -shaped dummies; and
Exclusive design in medicine puts many of our lives at risk. it was breaking news this week that a Black medical student had updated guidance on how life threatening diseases, such as rashes or COVID symptoms, may appear differently on non-white bodies.
Exclusive design also shows up in how hiring processes and systems result in biased results. It's why I had to step in and explain the Holocaust to a previous manager because he wanted to replace-all the word "recommendation" in a client report with "the final solution." His life experience had apparently excluded knowledge of some foundational history about minority groups.
The second step towards inclusive design is the reevaluation of design based on the contributions of diverse team-members and customers. To be truly inclusive, diverse people and perspectives need to be considered and incorporated in every step of the design process.
"The thing with inclusive design, and the nuance that doesn't come through, is that it was always about including excluded communities in the design process–not marketing to people with disabilities. It's not, you've designed something for a female population, and therefore it's inclusive. It's, did you involve someone in your design process who was previously unable to participate? How you get there is what makes it inclusive, not that it's targeted at an underrepresented or underserved community." – Kat Holmes, mismatch.design
In the end, there isn't one sure-fire way to apply inclusive design techniques to your company. There's no course to take or license to acquire. Inclusive design requires you and your team to make and maintain a new frame of mind around difference—from fearing it as a liability to embracing it as an asset. This paradigm shift can be tricky but it's also endlessly rewarding.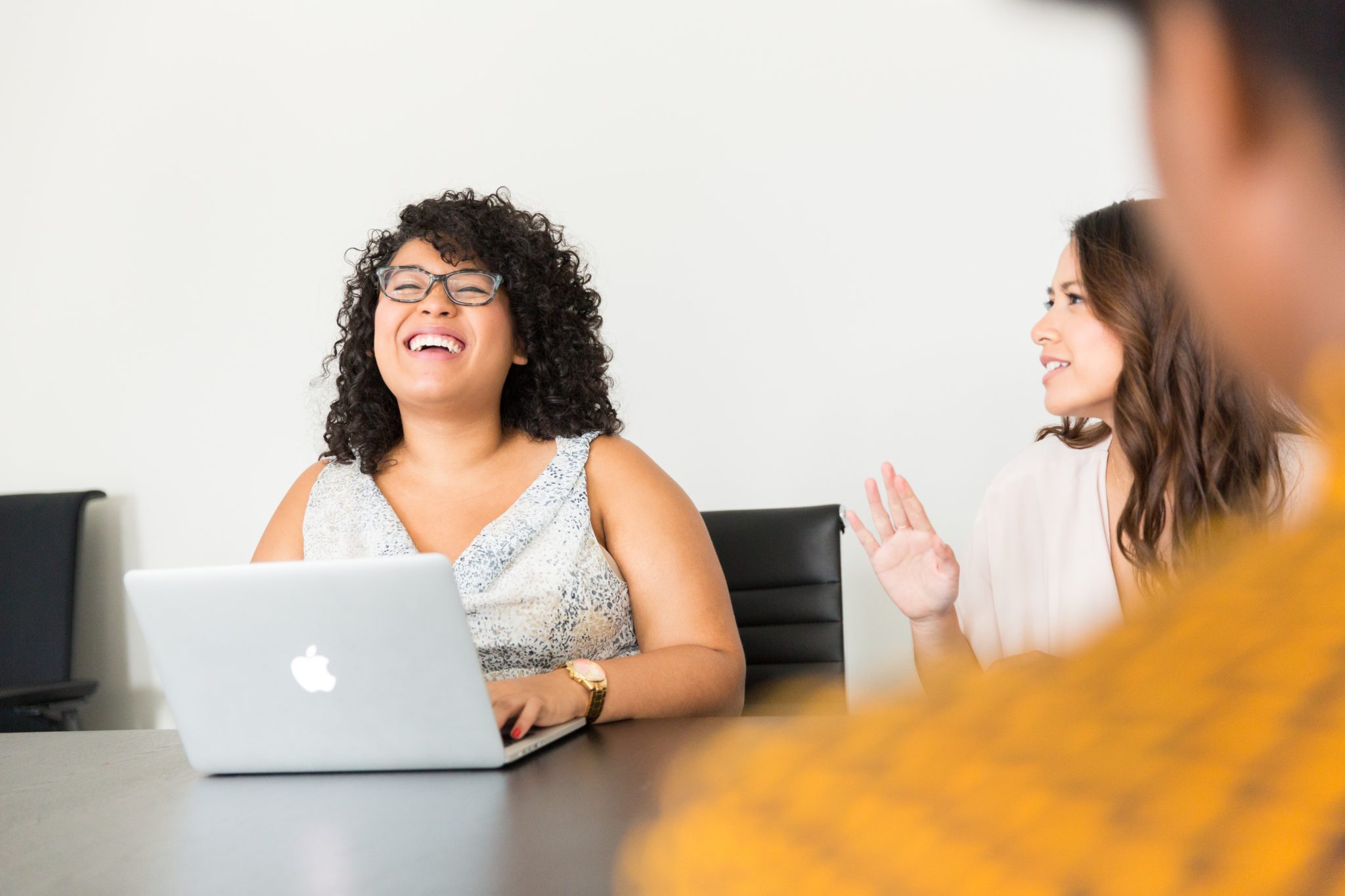 Here's a list of resources to continue your journey toward inclusive design:
Tags: