Ideation Takes Flight for Global Travel and Expense Automation Leader
Client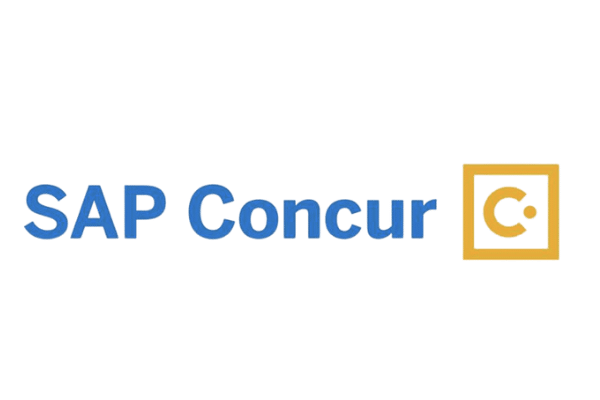 Location
Organization Type
Technology
Service
Two-Day Innovation Facilitation session focused on ideation
(#Tags)
consumer research
,
cross-department collaboration
,
Design Thinking
,
human-centered design
,
ideation and brainstorming
,
innovation and creativity
,
organizational development
,
product development
,
team building
,
virtual events
Real-World Requirements
SAP Concur needed a "North Star" to help directly guide their teams toward their mission of simplifying travel, expense, and invoice management for business travelers. In the past, Concur had largely designed for their corporate buyers. Currently, business travelers increasingly book their own travel and expect a consumer-friendly experience like Kayak, AirBnB, and Uber, so the team needed to shift its focus to those individual travelers. They also needed to build alignment and buy-in across a wide range of stakeholders.
Concur knew they wanted to gather cross-organizational perspectives and incorporate more modern, user-friendly features, but they weren't sure how to get there. Since the company was already steeped in design thinking, they wanted a partner who brought that expertise to the table to help them move forward.
To help them accomplish their goal, we crafted a 2-day workshop to put ideation into practice with real data and actionable results. The session would give executive leaders alignment on their strategy and technical project management teams the opportunity to get hands-on with human-centered design (HCD), strategize around real customer feedback, and come out with actionable solutions for their roadmap.
We had planned on an in-person workshop, but when COVID-19 hit, we quickly pivoted to a new virtual experience using Zoom, Google Slides, and the interactive workspace MURAL that would be just as focused, engaging, and results-driven as our in-person sessions.
Insightful Experiences
To prepare for the workshop, we held two discovery sessions, one before and one after a round of stakeholder interviews. We facilitated a stakeholder mapping exercise to clarify who should take part in the session and who would have the most influence on implementing the solutions that emerged. The Director of UX Research assembled leading industry research on business travel challenges and conducted interviews with clients to gather feedback on what was (and more importantly wasn't) working. We advised on how best to use the research and get people immersed in the findings before the session by asking participants to look at the data through the lens of serving repeat customers rather than new customers.
When it came time for the workshop, although we couldn't gather in person, we all came in well prepared and dedicated to our goal: to have a short list of actionable solutions to make their products better—based on proven customer needs—by the end of the two days. We used two facilitators to keep energy and focus high, and to be able to field any tech questions that popped up via Zoom chat.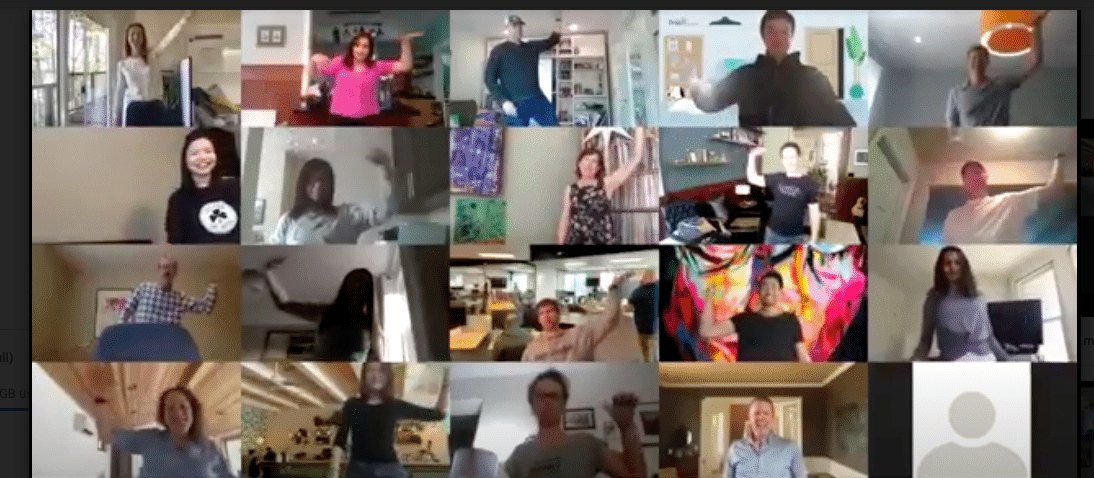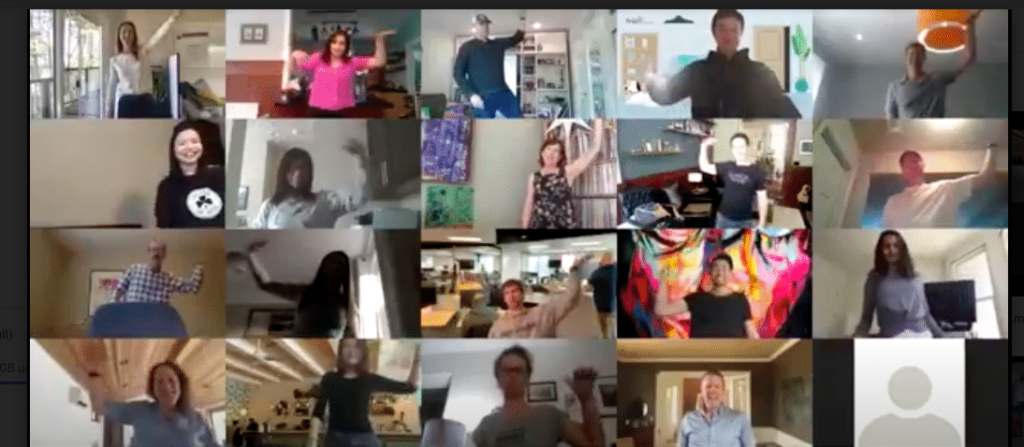 We kicked off Day 1 by establishing some group norms to make the session a success—for example, suspending judgment and disbelief, being an advocate for the business traveler, and being patient and supportive with any technical issues. To establish a shared vocabulary, everybody self-identified as either a generative thinker (lots of new ideas) or an evaluative thinker (quick to critique new ideas).
Activity 1 focused on business traveler needs. Participants broke into 6 different Zoom breakout rooms to share their pre-work, which included ideas like using your face and body as your passport, highlighting personalized amenities, and incorporating more global perspectives. We explored and evaluated "How might we" statements: How might we empower travelers to control more of their experience? How might we feel like the system understands them like an old friend? How might we better engage with rewards program benefits? The groups then reconvened to share their findings.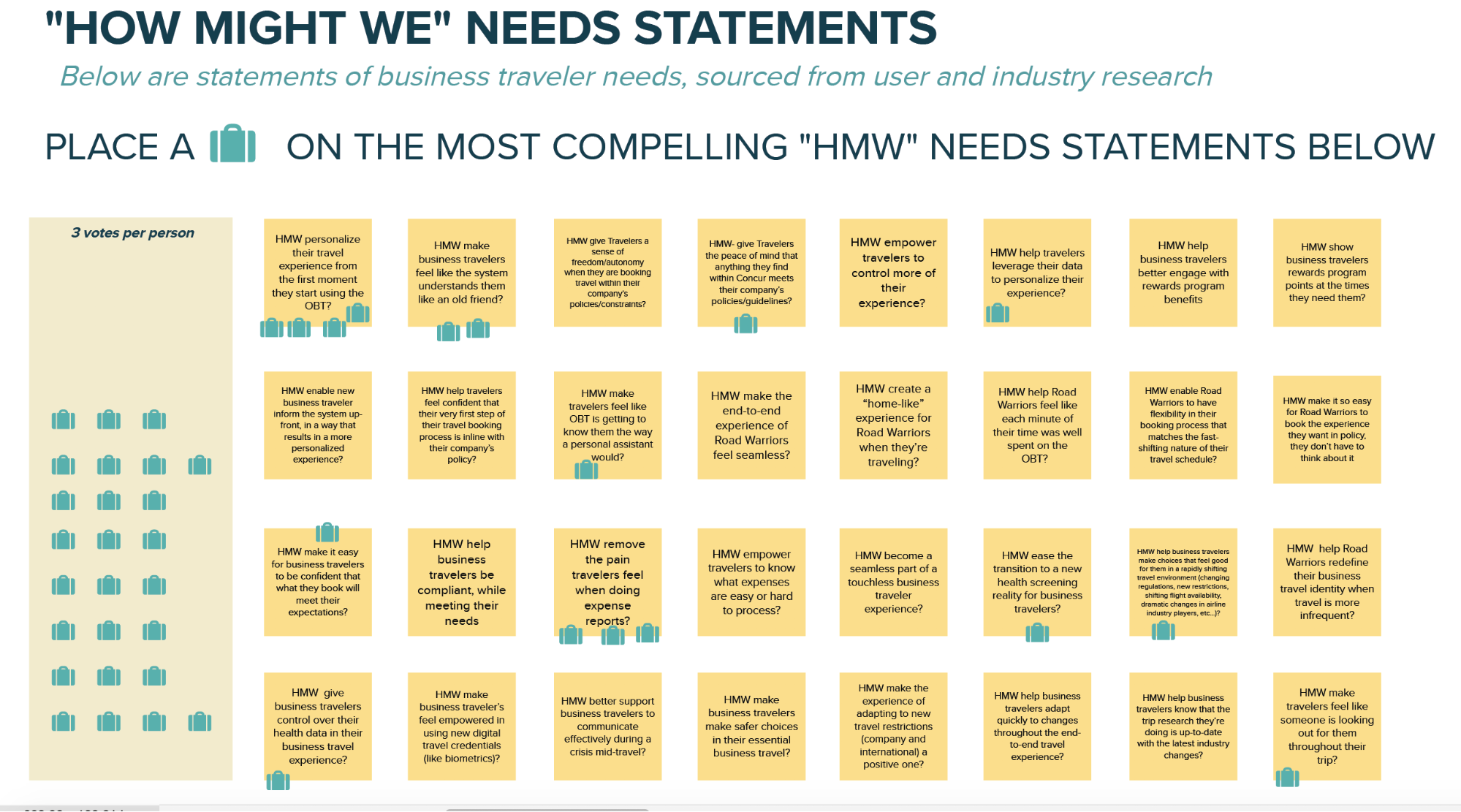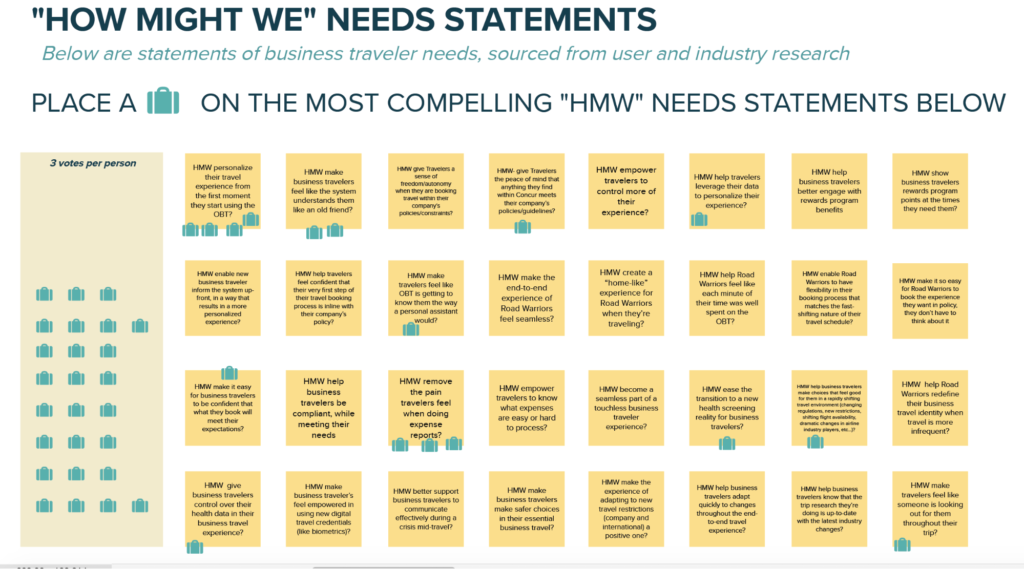 In Activity 2, we quickly ranked the "How might we" statements on a scale of "positive impact to traveler experience," emphasizing action over discussion.
In Activity 3, we used a Mad-Libs exercise to build traveler-centered vision statements.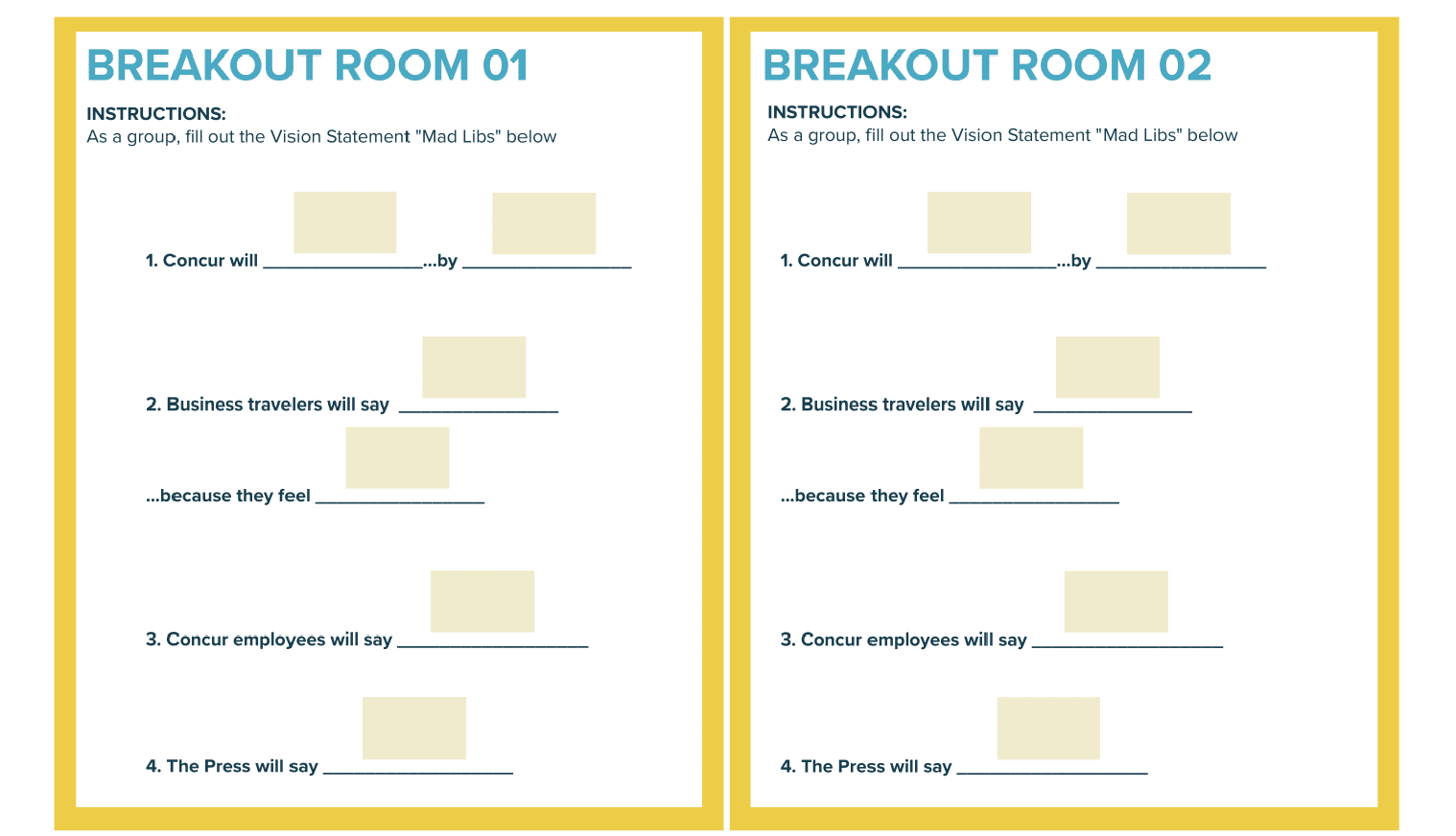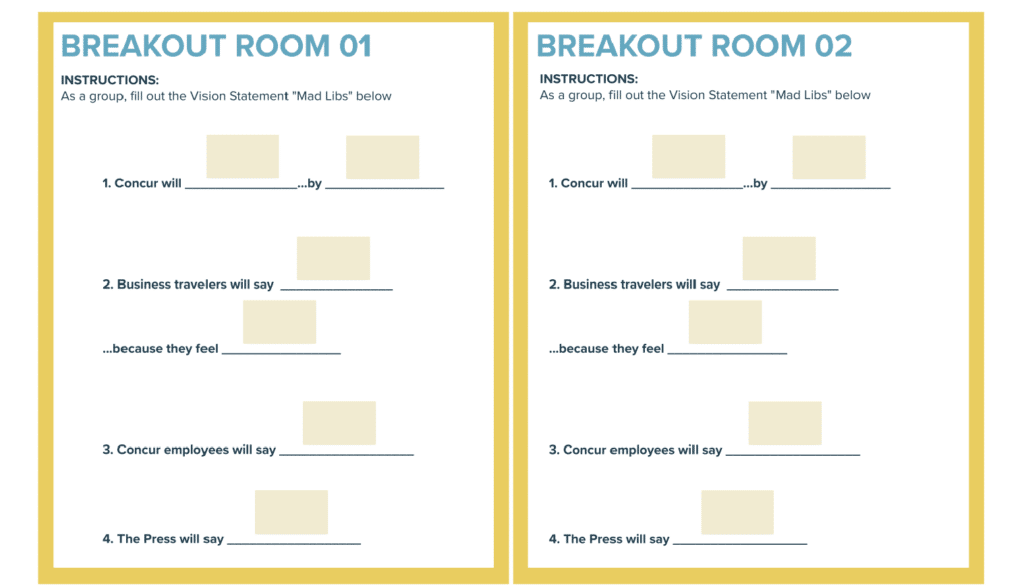 Activity 4 focused on concept ideation, generating needs-focused ideas that address the business traveler.
"I was nervous about doing this remotely, to be honest, but I think it's gone well! I love some of the new ideas that are showing up on these sticky notes."
ROBB NIELSEN, SENIOR VP GLOBAL PRODUCT EXPERIENCE, SAP CONCUR
In Activity 5, we created user stories for travelers—a few sentences in simple language outlining the user's desired outcome. In Activity 6 we used "Yes, and…" to build on our user stories with new elements or features. In all, participants generated 500 new ideas and customer stories.
"I loved how collaborative and nimble the Mindhatch team was. You made the session fun – and made many pivots to ensure we had the best possible outcome."
ELLIE KEMERY, HEAD OF UX RESEARCH, SAP CONCUR
On Day 2, we focused on idea evaluation, ranking the ideas from Day 1 using these criteria:
Builds confidence in the booking choice
Speeds up overall buying process
Adds convenience to the expense reporting process
Most innovative in improving traveler experience
Most passionate about
We fleshed out the most promising ideas and by the end of the day, we were aligned on next steps.
Inspired Results
After the workshop, we followed up with a comprehensive final report detailing the activities, results, and outputs, including digital assets for all activities. Recommended next steps included:
replicating similar sessions across other traveler-influenced products
conducting human-centered design sessions to better understand the needs of customers and buyers
holding professionally facilitated sessions with customers, buyers, and travelers to help ideate and prioritize ideas
"People are talking about it, especially those that have never been through a design thinking workshop… They are now thinking about this as more of a way to kick things off at the beginning of projects."

ELLIE KEMERY, HEAD OF UX RESEARCH, SAP CONCUR
Now that the team is deeply grounded in individual traveler needs, we're excited to see where SAP Concur's new products will take business travelers in the future.
Mindhatch Moments
500+ new ideas and customer stories generated
---
How satisfied were you with how Mindhatch interacted with your internal and external clients?
"Extremely satisfied."
To what extent did the completed project meet expectations and objectives, and achieve desired outcomes?
"Met all expectations."
Do you feel you and your organization got value for your investment?
"Yes!"
"Allow space and time for ideas before the editing phase."