When we think about what impacts business and organizational success, we readily think of innovative products, stellar marketing, and a visionary CEO. But what is often overlooked is the importance of employees. They serve customers, manage clients, and work around organizational constraints to get things done. A company would be nothing without its people; and yet their experience as a vital stakeholder is often overlooked in favor of "revenue generators" like customers. And the business functions that exists to serve people — like human resources — are often underfunded and/or given little decision-making authority.
Yet 71% of executives believe that employee engagement is vital to achieving overall organizational success. And teams that are engaged experience less turnover (while employees who leave can cost businesses 1.5 times their annual salary), have higher customer ratings, greater profitability, higher productivity, and less absenteeism. In order to attract top talent, a company needs to be a place where people want to work.
Without engaged and happy employees, a company won't be as collaborative, innovative, and ultimately successful as it could be.
So, how do you get — and keep — employees engaged? In our work, we've found that employee engagement often boils down to organizational culture. And in order to change organizational culture for the better you need to stop thinking of employees as human resources. The word "resources" has connotations to assets that are to be maximized. Employees are not machines whose outputs need to be optimized at all costs. They are living, breathing people with values, needs, and desires.
We are fans of the recent trend to move away from the "resources" word and to instead use position titles such as "Chief People Officer," "Director of People and Culture," or even "People Champion." (See more titles here.) In order to create places of work and organizational cultures that facilitate and nurture employee engagement, we need to break out of the default paradigms of human resources and start considering — and designing for — the end-to-end employee experience. Why? Because a better employee experience leads to improved employee engagement.
Design thinking, also known as human-centered design, is a process that has the potential to empower human resources functions to do just this. The methodology provides the necessary tools, mindsets, and ways of working to rethink the entire employee experience through an employee-centric lens.
"Design thinking casts HR in a new role. It transforms HR from a "process developer" to an "experience architect." It empowers HR to reimagine every aspect of work: the physical environment; how people meet and interact; how managers spend their time; and how companies select, train, engage, and evaluate people." Josh Berson, Deloitte Insights
Here's how design thinking can help you transform from a human "resources" approach to the employee experience mindset, which will result in more engaged employees and make your company more successful:
1. Design thinking helps you understand your employees.
Traditionally, human resources is in charge of guiding a new employee through the process of being an employee at a particular company. This can involve hiring, setting up payroll, health insurance elections, and handling process- and paperwork-related problems as they arise. This represents a more transactional relationship between human resources professional and employee.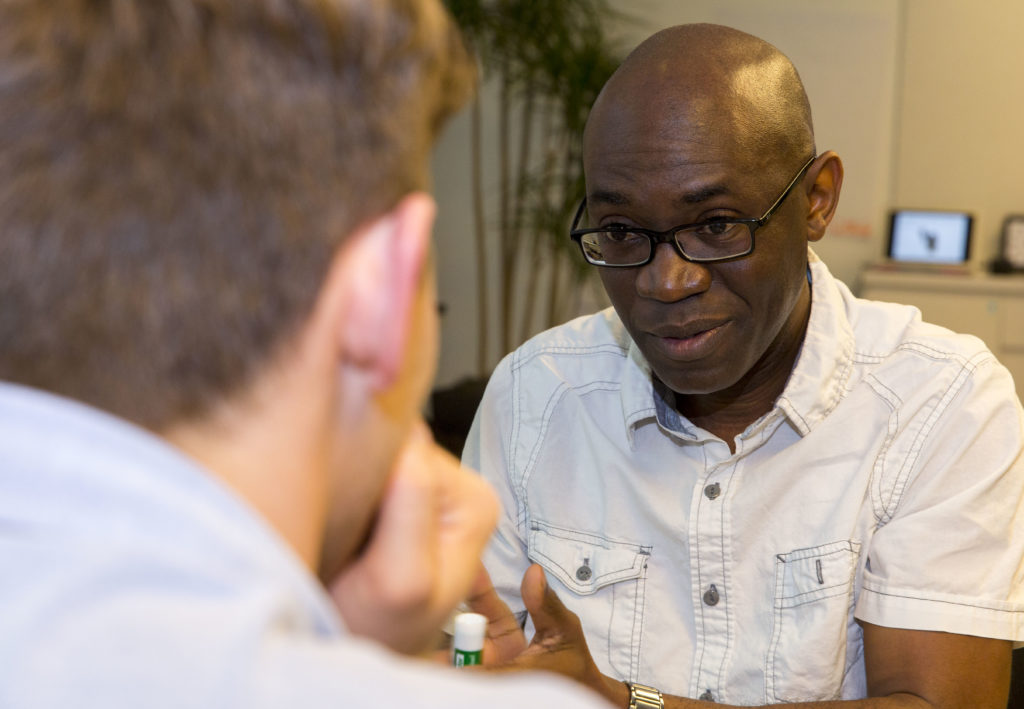 Design thinking, on the other hand, involves developing empathy (a core human-centered design principle) for those you're designing for. This requires that you go to where employees are to understand their needs, wants, and behaviors. This is often done through in-person interviews, observations, and a deep immersion into the world of your target audience. Additionally, organizational improv can be an excellent tool to cultivate empathy. In our "Design Thinking for Employee Engagement" interactive discussion at Design Thinking 2019, we led participants through targeted improv methods that can be used in a design thinking process to better cultivate employee empathy and understanding.
Design thinking requires deeply caring about the experience of, in this case, employees. Once you have this understanding, you can begin to think far more strategically about the employee experience and go beyond the basic "resource"-inspired policies and procedures.
2. Design thinking helps you take action on that new understanding.
Oftentimes business decisions — from the vacation policy to office location — are made based on what is best for the company without deep consideration for what is best for employees.
Design thinking encourages that you use your deep understanding of your audience as a filter for designing solutions. In human resources that means asking yourself and your colleagues how each decision will impact the employee experience and if it is solving a problem that is meaningful to them.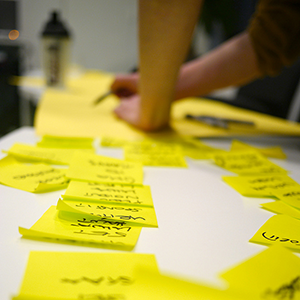 For example, after conducting empathy-based research, we often have clients list out the values or principles that they want an employee to use when describing what it's like to work at their company. This can often take the form of, "We want employees to feel __________ at every step of their journey with us." Because you've deeply understood your employees, you can be more certain that the values statements satisfy what employees want. Once you've identified what type of experience you want them to have — and you have a deep understanding of their needs and what matters to them,  you can make decisions that actually solve real problems. You can confidently tackle meaningful problems rather than throwing another ping pong table in the break room.
3. Design thinking helps you look at the end-to-end experience.
Most companies approach the employee experience, if they do at all, as if it starts with onboarding and orientation and ends with the exit interview. This is an employer-centric way of viewing things. But if you actually talk to employees and use a design thinking method such as journey mapping, you'll quickly realize that most employees start their journey much earlier and end it much later than you think. In reality, it might begin when a potential employee first learns about a job opportunity to work at a company, be it in an online job description, referral, etc., and may end many years after they've left if a company has an alumni network.
Design thinking allows you to look at the totality of the employee experience as employees see it and therefore find many more opportunities to improve it.
4. Design thinking helps you look at the employee experience in a holistic way.
While free lunches and unlimited vacation time may seem like great perks of being an employee, they only scratch the surface of what it's like to really work at a company. For example:
What is an employee's experience like when they are on vacation? Do they have to check email? Are they getting text messages from colleagues? Are they able to truly disconnect?
What is an employee's experience with accounting? Are they easily able to get answers that they need for managing budgets? Does it take weeks to get a paycheck problem resolved? Does their point of contact change every time they need help?
How does an employee's commute impact their experience on the job? Do they arrive to work flustered because public transit was unreliable once again or because the parking situation is impossible?
How are they able to nourish themselves onsite? Is there ample water available? Are a variety of affordable, and/or healthy food options available within walking distance of the office?
Design thinking encourages you to consider the holistic employee experience and design solutions that offer a cohesive level of understanding, awareness, and care throughout.
5. Design thinking results in your employees feeling invested in their experience.
Because they don't feel that the companies they work for are invested in them, employees often are not invested in their employers. In fact, 43% of Millennials say that they expect to leave the companies they work for in the next two years, according to Deloitte's 2018 Millennial Survey.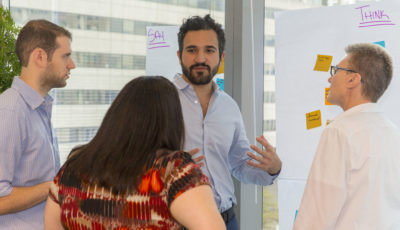 Design thinking advocates rapid prototyping  and solution testing that requires getting feedback from who you are designing for at every step of the way. You may also elect to invite employees to ideation sessions to get their solution ideas, even after already understanding them through empathy. Human-centered design's spirit of co-creation gets employees to participate, which in turn builds trust, and often results in a better solution. It also gives them the power to help shape their and their peers' experience. And when employees feel empowered, stronger job performance, job satisfaction, and loyalty can result.

When you demonstrate understanding and care for your employees and design for their experience, good things happen: Higher retention, greater investment, better engagement, and a healthier bottom line. Design thinking has the unique ability to empower you to set your organization up for greater success by moving from "human resources" and "employee engagement" to "employee experience."

Tags: