Cracking the Code on Strategic Ideation for a Global Life Sciences Innovator
Client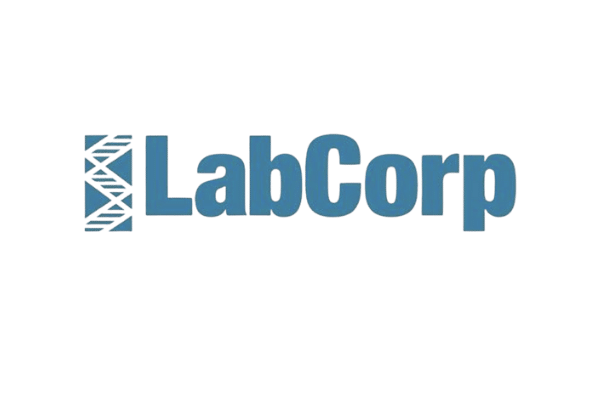 Location
Organization Type
Healthcare
Service
Two-day Innovation Facilitation sessions focused on ideation
(#Tags)
cross-department collaboration
,
ideation and brainstorming
,
innovation and creativity
,
marketing and business development
,
organizational development
,
product development
,
strategic planning
,
team building
Real-World Requirements
LabCorp is the world's leading healthcare diagnostic company. As they charted their course forward, they wanted their teams to collaborate better and generate more ideas for breakthrough innovation.
Their Integrated Genetics (IG) group urgently needed to figure out how to expand testing. They had hit a wall in reaching customers and needed to strategize on how to gather, prioritize, and implement new ideas.
The Integrated Oncology (IO) group was confident in their ability to implement new ideas once they had them, but needed help getting more creative with brainstorming, organizing the ideas, and vetting their best options to move forward to implementation.
Both groups wanted to strategically fill the front end of their idea funnel, get people across groups sharing information, generate a mix of creative new short-term and long-term solutions, and ultimately navigate a clear path forward, together.
We worked closely with LabCorp to develop two customized Innovation Facilitation workshops designed to shake things up and spark new and different thinking while building cross-division collaboration and trust.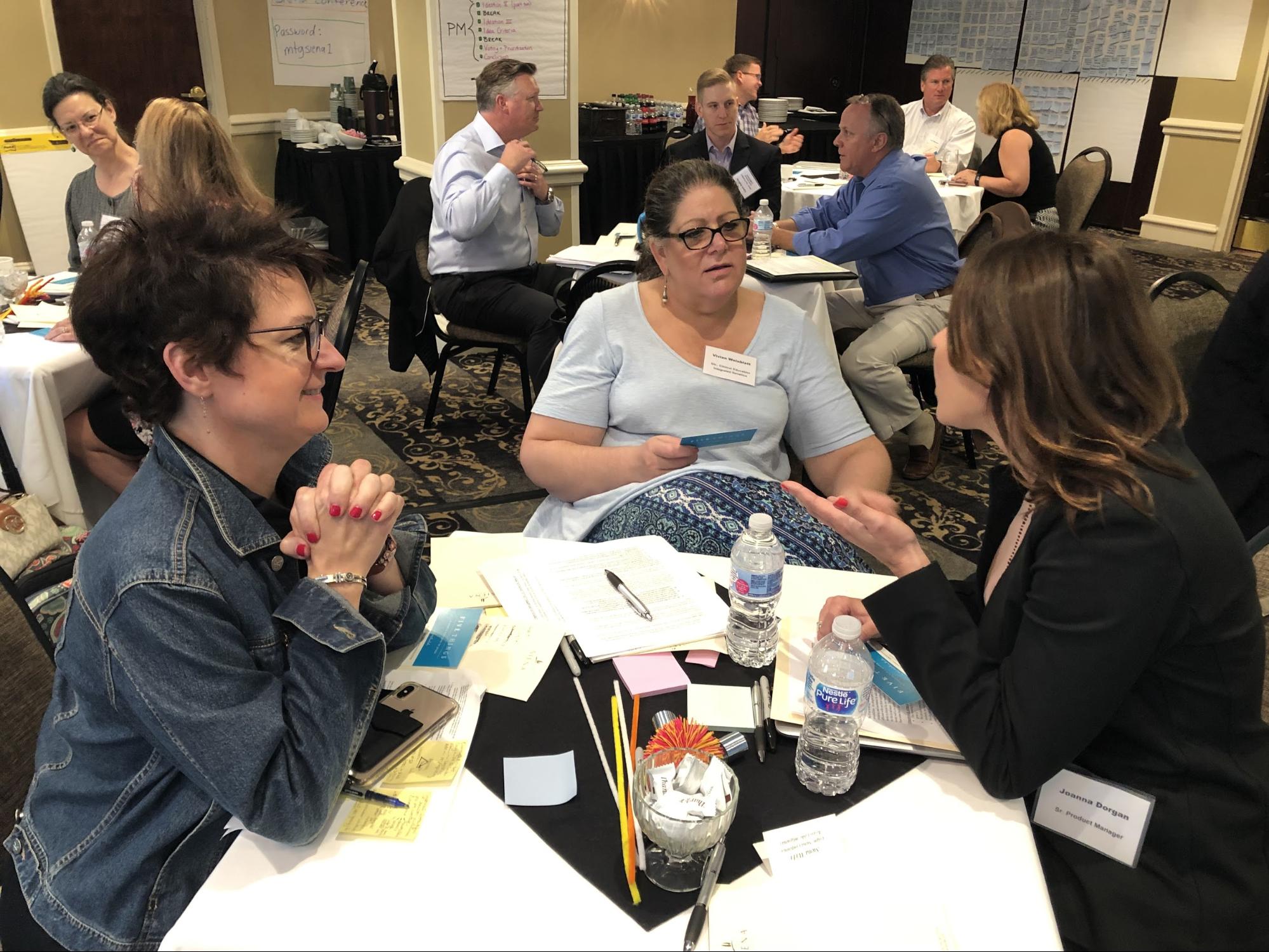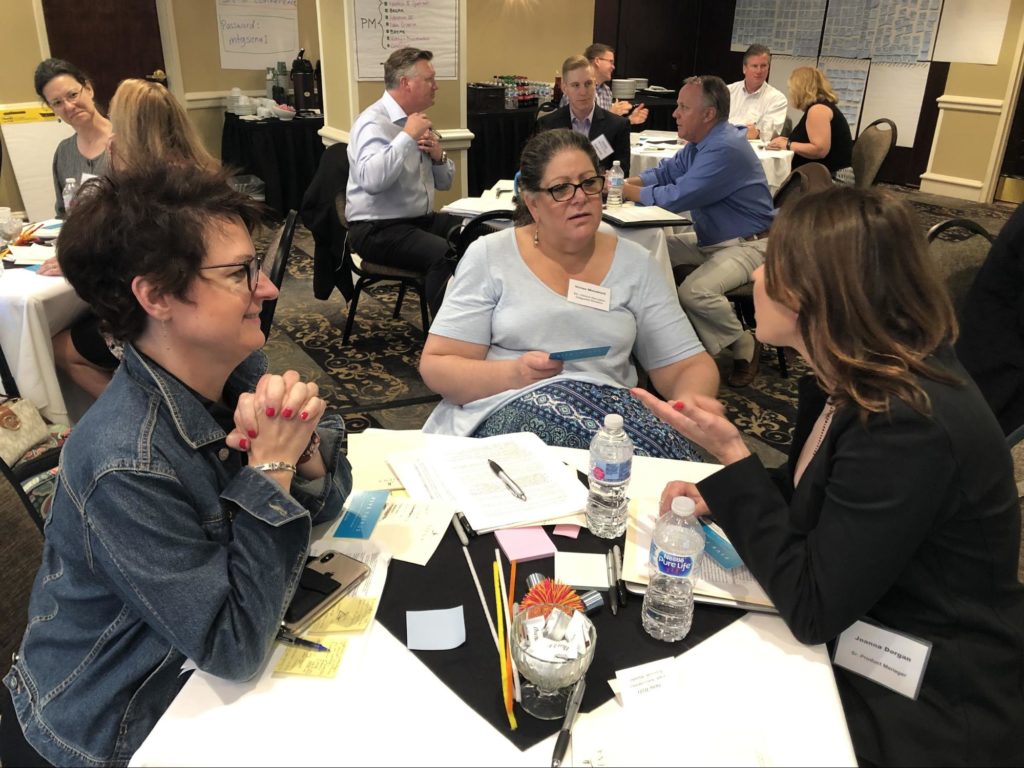 Insightful Experiences
The sessions were held on different days and customized to the needs of each team, but we kicked each one off with some warm-up activities and reviewed the basics of communicating a good idea—for example, focusing on a concrete noun as the goal (rather than the action you'd take to get there), and steering clear of desirable but vague descriptors like "fast" or "easy."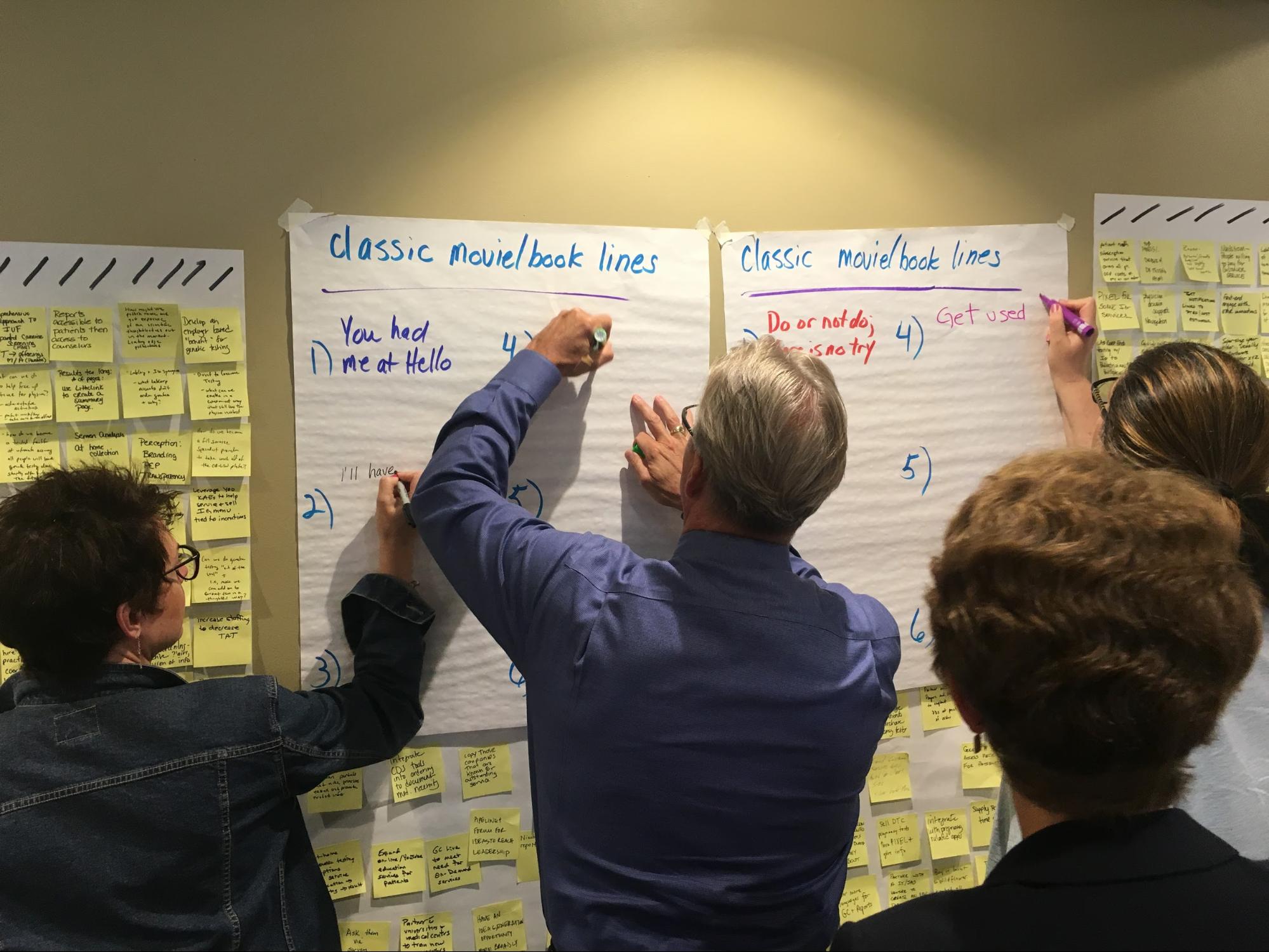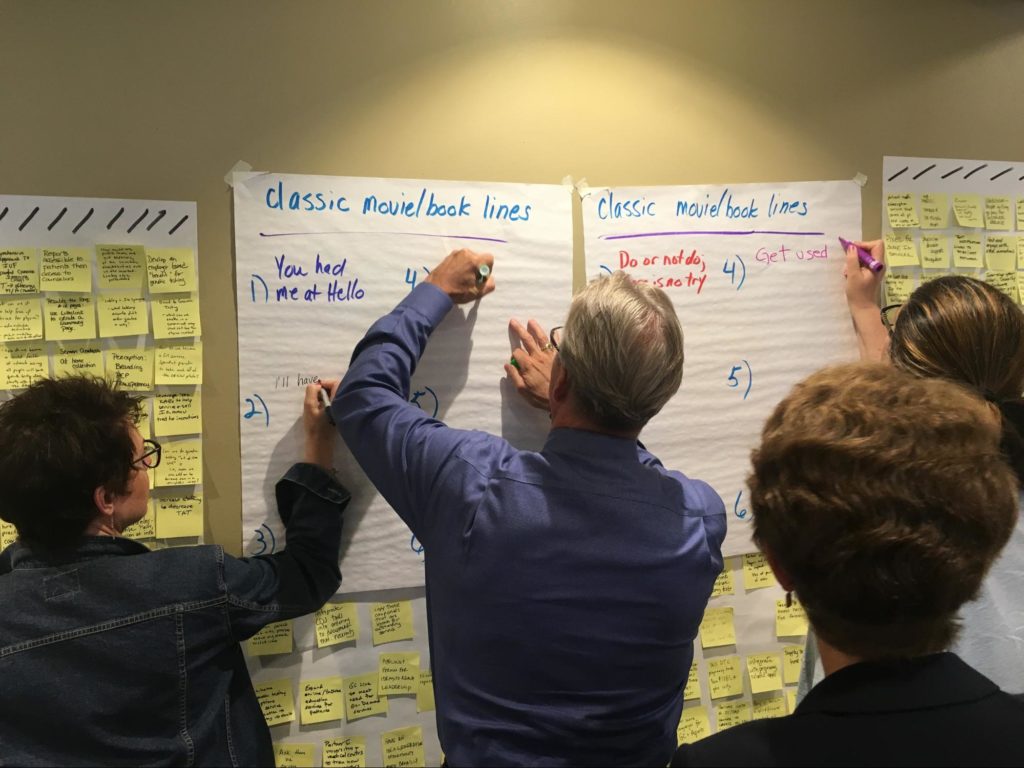 Next, we took the teams through some structured activities to push them beyond the expected with their brainstorming. Using a variety of creative catalysts, such as dice rolling and mix-and-match "Forced Connections" exercises, the ideas started flowing. We helped each team clearly articulate and build on the ideas, dive deeper to understand the core motivation behind them, and group them effectively to identify themes.
"You did a great job of channeling the group's focus on the key areas we had defined, recognizing when people were getting stuck and quickly adapting your approach. You really challenged people to think in different ways."
CELESTE CHENET-MONTE, AVP MARKETING AT INTEGRATED ONCOLOGY, LABCORP
We accelerated ideation through improvised theoretical experiences where we assigned roles, did walkthroughs of customer experiences, and imagined the best-case (and worst-case!) scenarios. This led to more ideas, increased clarity, and a better understanding of the pros and cons of different options. A number of powerful ideas emerged, from nurturing organic business growth to making their product offerings easier to access, getting creative about who they're reaching (and how), and exploring new partnerships.
Inspired Results
At the end of each workshop, the teams had so many great ideas they had to sort and color-code them by "wishes," opportunities for organic growth, new business models, and merger and acquisition ideas. The team then chose their top ideas for each grouping and separated them into short-term and long-term opportunities.
For the IO group, who needed to share their ideas at an important strategic meeting the very next day, we used specialized brainstorming software to collect the ideas in a digital format sorted by importance, category, and timeline. Even the ideas that had been identified as being too difficult or costly were recorded, to ensure that no kernel of a potential high-value idea was lost in the sorting and vetting process.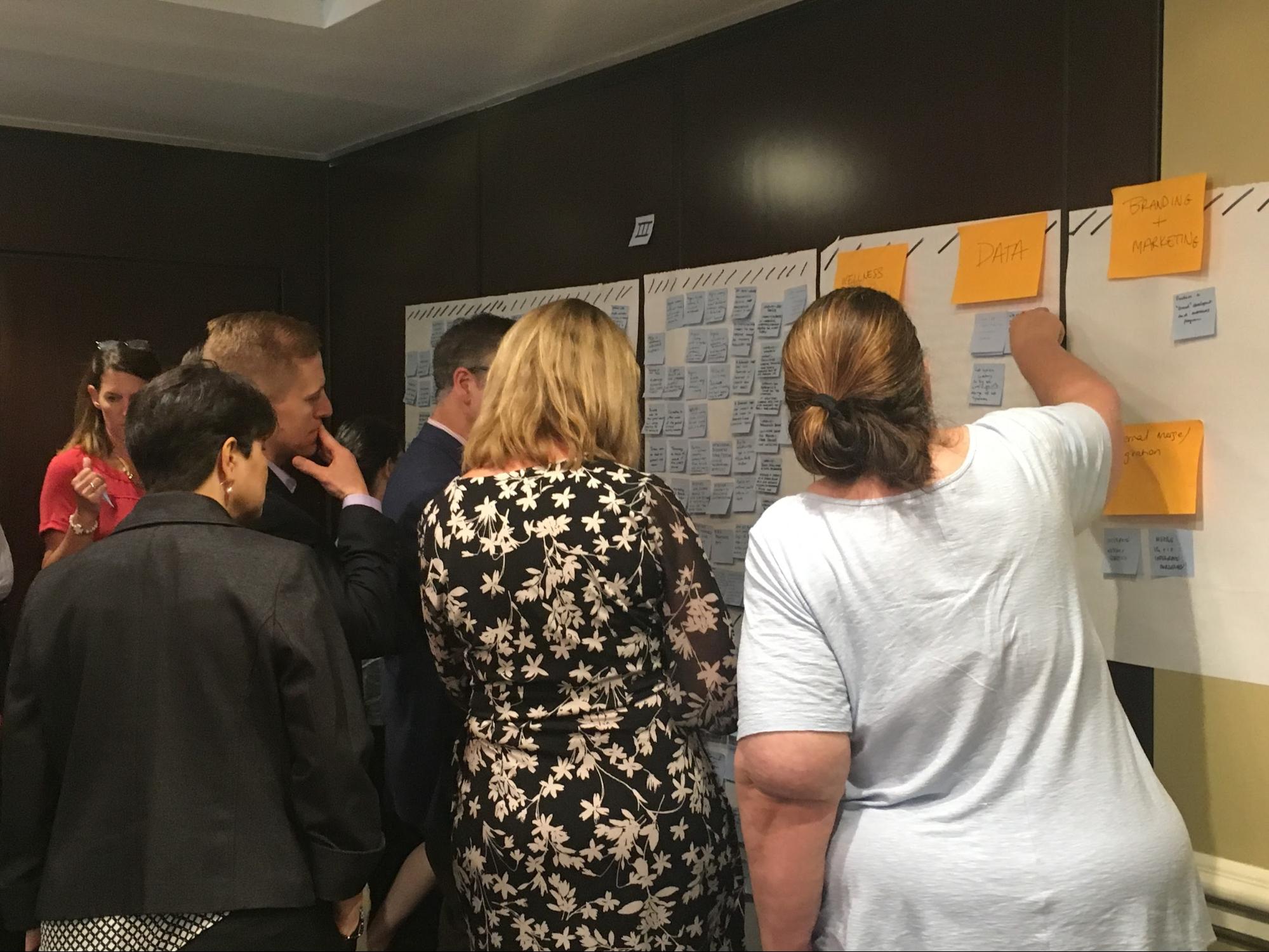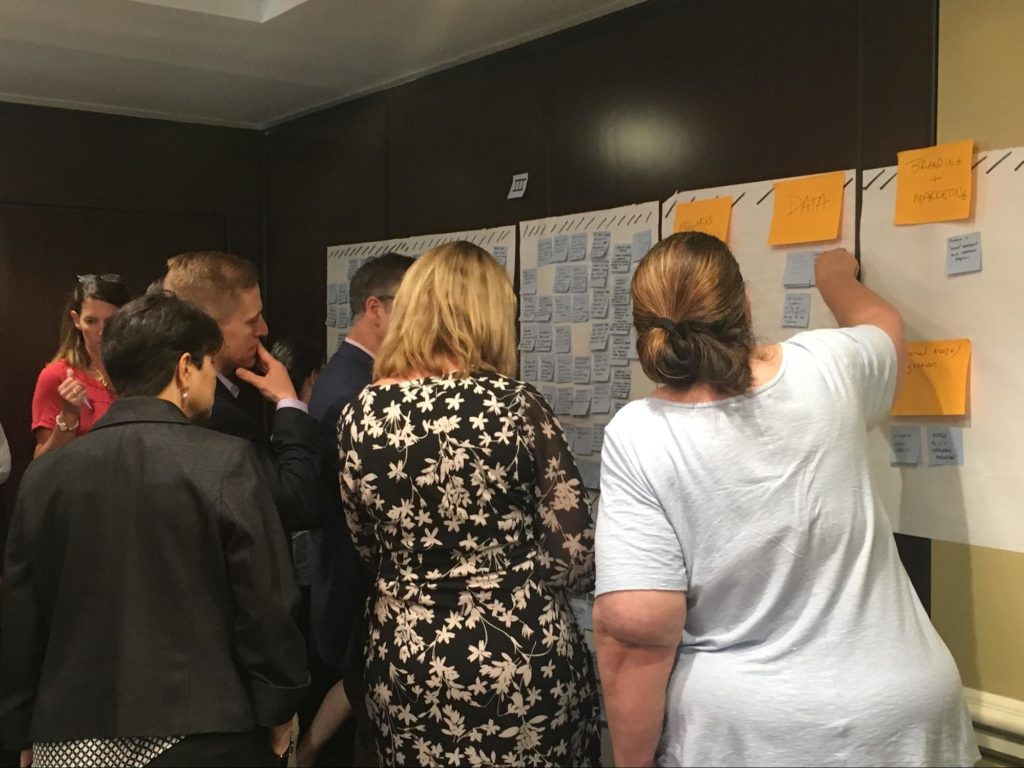 In a follow-up to the workshop, we helped the LabCorp leadership team review the key takeaways and clarify next steps, including narrowing down their top ideas to a shortlist of 3-5 and creating sub-teams to make those priorities a reality.
The organizers have noticed a real difference in how open everyone is to collaborating with each other, keeping the dialog going, and working across teams.
"People have already been working cross-collaboratively on a more frequent basis because the session opened up that relationship for them."
SERENA GUZMAN, VP INTEGRATED ONCOLOGY AND DIANON PATHOLOGY, LABCORP
LabCorp came out of the sessions with a stronger sense of cross-team collaboration and a doable list of tangible ideas and action items to get them where they want to go.
Mindhatch Moments
Do you feel you and your organization got value for your investment?
"Yes, you gave some really good examples to get people's minds going in a different direction. You challenged people to think of things in different ways."
What was the company reaction overall?
"Very positive, lots of elevator talk!"
"Your best work often comes from creative vulnerability—throwing an idea out there that might not work, but could spark something that could."