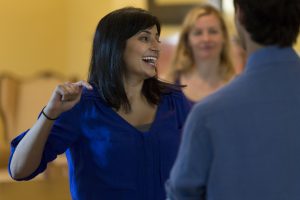 The Fremont Agile meetup (or "The Center of the Agile Universe") is a group of agile software development enthusiasts in the Fremont neighborhood of Seattle building a community to share best practices, network, and provide support to one another.
On June 20th, Coonoor Behal will introduce core concepts, principles, and tools of improvisational comedy and how they can be applied to design thinking and human centered work. Learn how improv can help you be a better and more creative design thinking practitioner.
This meeting will be active and experiential, with everyone engaging in lively games and exercises to illustrate core design thinking concepts and skills. No prior improv or acting training of any kind is necessary! Dress comfortably.
You'll leave with 1) improv tools to apply to various phases of the design thin
king process, 2) practice with and confidence in employing these tools.
More info at: https://www.meetup.com/Fremont-Agile-Meetup/events/rpwpglyzjbbc/