Read below for a wonderful write-up of our recent improv workshop with LEVO League DC.
---
"#BeBrave with Improv"
by: Elizabeth Glomb, Marketing Strategist at CHIEF
December 11, 2015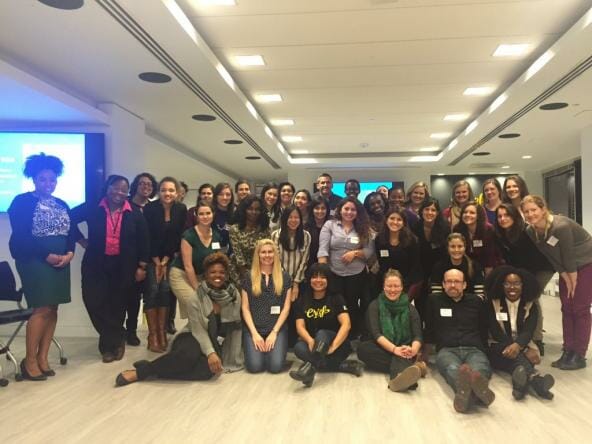 How often do you laugh during the workday? I'm talking open-mouthed, teary-eyed, laughter until it hurts? All too often, the answer for many is: not often enough. Even if you love what you do, it's sometimes hard to break free of seemingly endless to-do lists and demanding meeting schedules. But that all changed Tuesday evening, when CHIEF hosted Levo League DC for an incredibly fun evening of improv led by the organizational and customer insights firm, Mindhatch.
Mindhatch believes the best insights come from people—your team and your customers. Through design thinking, improv and facilitation, the organization seeks to uncover people's capacities for creativity, collaboration and innovation. At Tuesday's session, led by Mindhatch founder Coonoor Behal, our group of 50 participants learned how to use improv techniques to sharpen our public speaking, innovative thinking and creative problem solving skills. Coonoor stressed that these skills exist within everyone, but that improv helps tap into this often-suppressed ingenuity to provide actionable results that bring value to the workplace.
To be honest, I was skeptical at first. How on earth could I use improvisational skills to better my career? But being a self-proclaimed public speaking "scaredy cat", I decided to try something new and heighten my ability to think on my feet!
The evening began with warm up exercises to get everyone acclimated and we then launched into the first exercise: a large game of telephone, only with sound and movement. As this gesture moved around the circle, it was interesting to see how the initial action was unintentionally altered. Each participant receiving the gesture made a conscious decision to either honor the most recent person's unique rendition or, alternatively, to resurrect the gesture of the very first person in the circle who initiated it.
This exercise highlighted people's natural inclinations to be "sticklers" for the rules or, alternatively, to be open to change.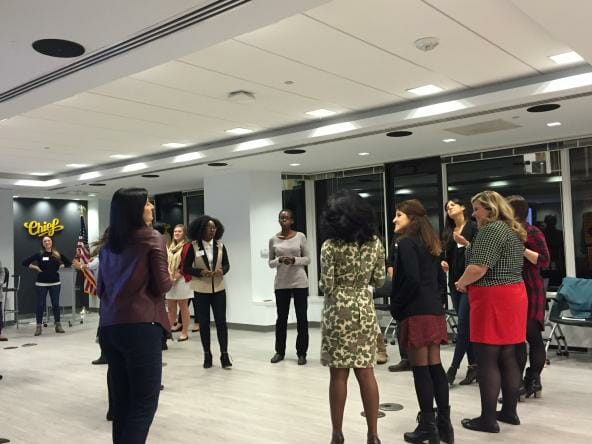 We then broke out into smaller groups and did more focused exercises, including one where teams worked towards a common goal like building a specific shape—and without the use of words or gestures (e.g., I wound up standing in as the topper of a wedding cake). This exercise showed us that no contribution is insignificant, but that the whole is greater than the sum of its parts.
The final exercise of the evening—and my personal favorite— was called "Squirrel, Tree, Nut," in which one participant jumped in a circle and to act out a character of their choosing. Subsequent participants then built off the previous person's character, adding to the established theme. For instance, if the first person acted as a squirrel, the next person could be a tree, the next a nut and so on.
It was fascinating to see how one person's decision to add a component could change the entire dynamic of the group—a lesson that many-a-project team might appreciate.
While all of this sounds like fun and games (it was!), I left the evening feeling energized and inspired to bring a new level of creativity to my work.  Below are my top four lessons learned:
The skills needed for improvisation and success in business include: quick-thinking abilities, clear collaborative communication, resilience in the face of adversity and adaptability.
No" and "Yes, but" are essentially the same things—and both tend to hamper creativity. Sometimes you just need to say "yes and" so that we can better build off of other people's ideas.
It's okay to slip up! Just #BeBrave, pick up where you left off and move forward.
Improv exercises will help get the creative juices flowing and encourage people to tap into ideas they might not have had before.
So there you have it! I'm officially an improv convert. I truly believe improvisation can inspire teams to make bold choices, explore new ideas and #BeBrave. I've already started thinking of ways CHIEF can incorporate these techniques into our own work. Even just a few short creativity exercises could change the course of a project brainstorm or a proposal meeting.
Read the original article here.
Learn more about Mindhatch's Organizational Improv offerings here.
Stay up to date on the intersecting worlds of business and creativity. Sign up for Mindhatch's quarterly-ish newsletter and get our "Five Things" improv game for free.